"That true traditional sound, the one that probably drew the vast majority of us to bluegrass, that's the core and the beauty of the eighth album from the Finnish group Jussi Syren and the Groundbreakers "
– BLUEGRASS UNLIMITED
"It is possible, as with this project for non American bands to not only appreciate the culture and idioms of American music but to enchance them and create something really compelling"
– COUNTRY MUSIC PEOPLE.
"The energy and feel of working live in the studio is an element missing in some of today ́s Bluegrass recordings and Jussi Syren And The Groundbreakers capture that long lost drive very well"
– DENNIS JONES, WNCW
"Loud, raw and pure bluegrass"
– Aaron Keith Harris LONESOME ROAD REVIEW
JUSSI SYREN AND THE GROUNDBREAKERS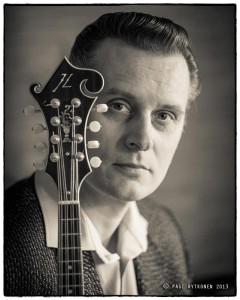 Jussi Syren And The Groundbreakers on kansainvälisesti arvostettu
bluegrass-yhtye, joka on tehnyt kiertueita yhdeksässä USA:n osavaltiossa ja kahdeksassa Euroopan maassa. Vuonna 2019 bändi teki ensimmäistä kertaa levytys-yhteistyötä Grammy-voittaja Michael Clevelandin kanssa tämän vieraillessa viulistina Yhdysvalloissa huippuarviot saaneella "Bluegrass Headquarters"-albumilla. Groundbreakersin kahdestoista levy "Bluegrass Christmas" valittiin vuoden 2020 joululevyksi Suomen paikallisradioiden toimesta ja samana vuonna bändi valittiin main showcase actiksi maailman suurimpaan alan tapahtumaan IBMA World of Bluegrassiin. Vuonna 2023 ilmestyi bändin kolmastoista albumi, jolla yhteistyö Michael Clevelandin kanssa jatkui. Levyllä vieraili myös iskelmä-laulaja Anneli Mattila. Suuri yleisö muistaa bändin "Itse Valtiaiden" tunnusmusiikista, sekä Ville Valon materiaalia sisältäneestä tribuuttilevystä "Heartagrass – An Acoustic Tribute To HIM".
Jussi Syren And The Groundbreakers vie yleisönsä totaaliselle akustiselle elämysmatkalle, jossa perinteisten bluegrass-kappaleiden sekaan on ripoteltu mm. Beatlesiä ja Louie Armstrongia – toki tiukkaan bluegrass-muottiin valettuna. Tästä kokemuksesta ei heti toivu! Yleisökommentti 2021 joulukiertueelta: "En tiennyt mitä olin tulossa
kuulemaan, mutta heti ensimmäinen kappale tuntui sielussa saakka".
Jussi Syren: mandoliini, laulu
J.P. Putkonen: kitara, laulu
Tauri Oksala: banjo, laulu
Tero Mäenpää: kontrabasso, laulu
In english:
This group from Finland, Europe formed in 1995, has been touring in eight European countries and nine US states including these festivals and venues: Gettysburg Bluegrass Festival (PA) Jam´n´Bluegrass (NC), Tennessee Fall Homecoming (TN), IBMA (KY), Everetts Barn (GA) La Roche Bluegrass Festival (France). They have three albums highligted in Bluegrass Unlimited during seven years period ("Bluegrass Singer" "The Old Home Place Ain´t The Same Anymore" and "Bluegrass Headquarters"). The banjo player Tauri Oksala was featured in Banjo Newsletter cover article June 2018. Grammy winner Michael Cleveland fiddled on two tracks on "Bluegrass Headquarters" album and three tracks on the thirteenth album "Bluegrass Voice" released in 2023.
In 2020 the group was selected a main showcase act for IBMA World of Bluegrass and their seasonal project "Bluegrass Christmas" was select a Christmas record of 2020 by Finnish radio stations.
Here is two tracks their thirteenth album "Bluegrass Voice" (Bluelight Records) featuring Michael Cleveland on fiddle: